(새로나온 CD) Lionel Tertis, 1919~1924년 연주

Bratsche!

2006-08-26 (토) 16:33 추천:0 조회:5867 61.xxx.145

| | |
| --- | --- |
| ㆍ첨부#1 | Lionel_Tertis.jpg (0KB) (Down:51) |
| ㆍ첨부#2 | Lionel_Tertis_1924~1933.jpg (0KB) (Down:51) |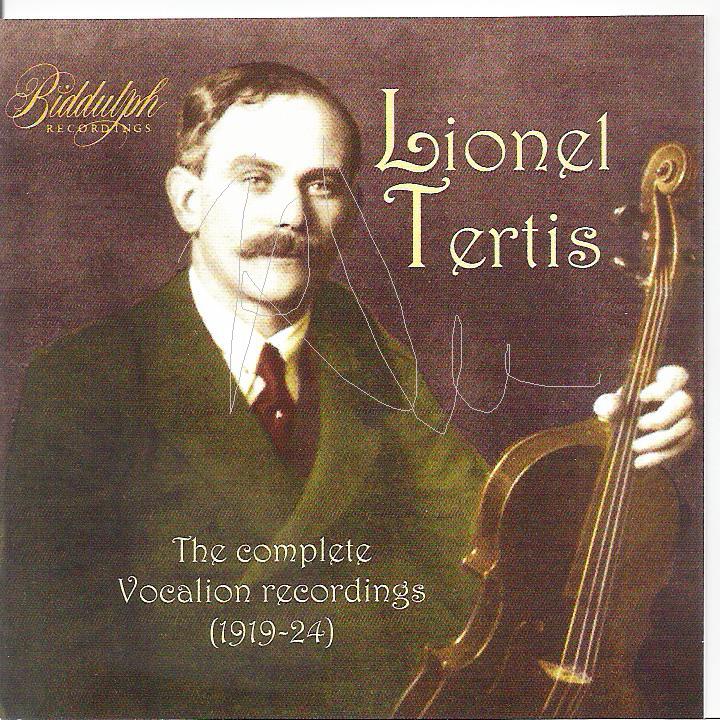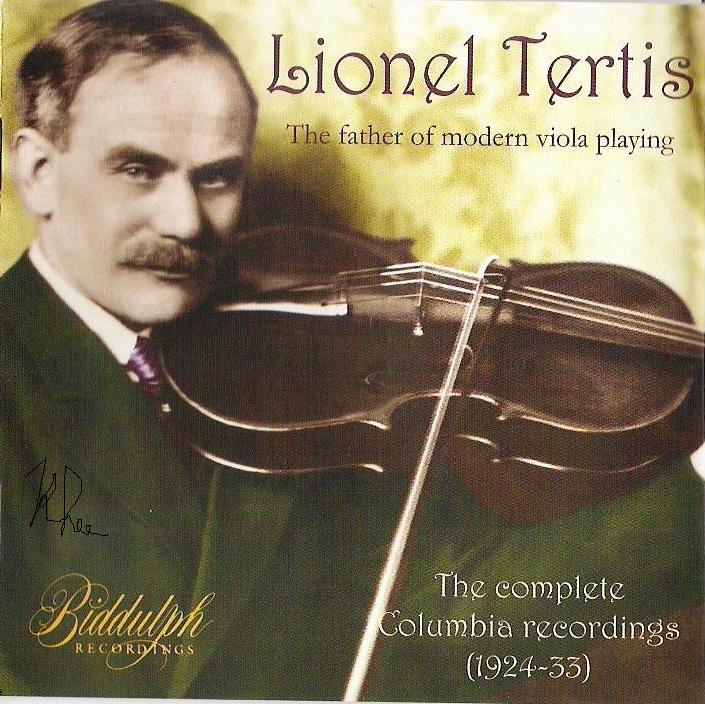 제목 그대로 Tertis가 본인이 편곡/연주한 EP레코드 시대의 음원들이 전직 영국 Strad紙의
편집장이자 현재 가장 영향력있는 현악평론가중 한명인 Tully Potter의 감수하에 CD로
발매 되었다. (사진 상단)
이로서 전설과 소문으로만 나돌던 Tertis의 1919년부터 1924년까지 전성기 전반 연주
(사진 상단)와 앞서 발매됐던 전성기 후반의 녹음들(1924년~1933년,사진 하단)까지 해외
비올라계에서 전설로 떠돌던 Tertis의 모노시대 음원들이 모두 복각 되었다.
총4장의 CD로 구성된 이 레코딩에서 비올라 아니라 편곡에 있어서도 뛰어난 재능을 보였던
Tertis의 채취를 느낄수 있다.
아래는 수록 작품 리스트인데 Tertis가 참여한 명연으로 꼽히는 실내악 작품들과 주옥 같은
소품들 그리고 본인의 작품등이 담겨 있는 귀중한 자료다.

(사진 상단,1919~1924년 연주 수록 작품들)
DVORÁK Four Bagatelles, Op.47
DUNHILL Phantasy Trio 5:51
FUCHS Duet 3:59
GODARD Duettini, Op.18)
HANDEL Sonata No.8
MOZART Trio in E, K.542
MOZART Trio in E-flat, K.498 Kegelstatt
MOZART Trio in G, K.564
SCHUBERT Trio in B-flat, Op.99
KREISLER Preludium and Allegro in the style of Pugnani 3:51
KREISLER La Chasse in the style of Cartier 1:52
KREISLER Chanson Louis XIII in the style of Couperin 3:09
KREISLER La precieuse in the style of Couperin 2:58
BACH Air on G-String 3:21
SCHUBERT Ave Maria 3:44
MENDELSSOHN Sweet Remembrance 2:38
MENDELSSOHN The Fleecy Cloud 2:52)
MENDELSSOHN Spring Song 2:36
MENDELSSOHN On Wings of Song 3:05
GRIEG Sonata No.3 in C minor, Op.45
TCHAIKOVSKY None But the Lonely Heart 2:30
DUPARC Extase 2:46
LEROUX Le Nil 3:44
MARAIS Le Basque 1:04
SCHUMANN Slumber Song 3:26
SCHUMANN Abendlied 2:53
LISZT Liebestraum 3:58
TCHAIKOVSKY Chanson triste 2:42
TCHAIKOVSKY Chant sans paroles 2:38
TCHAIKOVSKY Barcarolle 3:37
RUBINSTEIN Melody in F 3:16
GRIEG I Love Thee 3:04
KREISLER Rondino 2:58
KREISLER Tambourin chinois 3:24
BIZET Adagietto 3:16
GODARD Berceuse de Jocelyn 4:35
SAINT-SAËNS Berceuse 3:00
THOMÉ Sous la feuillee 2:45)
FAURÉ Élégie 4:08
FAURÉ Après un rêve 2:51
DAMBROSIO Reverie 3:24
DAMBROSIO Petit Suite 2:27
KALNINS Élégie 3:34
REBIKOFF Les rêves 2:56
WOLSTENHOLME The Question 3:33
WOLSTENHOLME The Answer 3:25
WOLSTENHOLME Allegretto 3:05
TERTIS Reverie 4:03
TERTIS Sunset 2:50
TOD BOYD Samoan Lullaby 2:34)
DALE Romance 4:34
MCEWEN Breath o? June 3:57
IRELAND The Holy Boy 3:29
GRAINGER Molly on the Shore 3:11
TRADITIONAL Londonderry Air 2:50

(사진 하단, 1924~1933년 연주, 수록 작품들)
Johann Sebastian BACH (1685-1750)
Chaconne (Partita n° 2, BWV 1004) [14.15]
Aria "Come Sweet Death" (Cantata BWV 191 / Arr. L. Tertis) - two versions [2.53 + 2.31]
Adagio from Toccata in C major (Arr. L. Tertis) [2.38]
Nicola PORPORA (1686-1768)
Air [2.30]
Erich Wolfgang KORNGOLD (1897-1957)
Hornpipe (From Much Ado About Nothing, op. 11 [1.46]
Ernö von DOHNANYI (1877-1960)
Sonata for violin and piano in C sharp minor op. 21 [16.03]
Giuseppe TARTINI (1692-1770)
Fugue en D (Arr. F. Kreisler) [3.13]
Franz SCHUBERT (1797-1828)
Nacht und Träume (Lied), D827 (Arr. L. Tertis) [2.55]
Andante and Allegro moderato from the Sonatina n° 3 [7.26]
Du bist die Ruh' (Lied), D.776 (Arr. L. Tertis) [3.07]
Joseph SULZER (1850-1926)
Sarabande (Air on the G string) for violin/violoncello and piano, op. 8 [2.39]
Antonin DVORAK (1841-1904)
Slavonic Dance No.1 in G minor (Arr. F. Kreisler) [2.51]
Songs My Mother Taught Me [Gypsy Songs op. 55 (Arr. Walter)] [2.25]
Anton Stépanovitch ARENSKY (1861-1906)
Berceuse (Arr. L. Tertis) [3.33]
Fritz KREISLER (1875-1962)
La Gitana [2.40]
Preludium and Allegro [4.27]
Gabriel FAURE (1845-1924)
Après un rêve (Arr. L. Tertis) [2.30]
Ernest GUIRAUD (1837-1892)
Mélodrame [3.07]
William WOLSTENHOLME (1865-1931)
Canzona [2.18]
Allegretto The Answer [6.25]
Cyril SCOTT (1879-1970)
Cherry Ripe [2.40]
Georg Friedrich HANDEL (1685-1759)
Sonata in F (Adagio and Allegro / Arr. L. Tertis) [5.51]
Passacaglia from Keyboard Suite No.7 (Arr. Halvorsen) [7.23] *
Wolfgang Amadeus MOZART (1756-1791)
Sonata in A (Allegro molto - Thème and variations / Arr. L. Tertis) [6.56]
Trio in E K.542 (Allegro ? incomplete and Andante) [10.04] *
Sinfonia Concertante in E flat major K.364 [29.55] *
Ludwig van BEETHOVEN (1770-1827)
Thème and Variations (Arr. L. Tertis) [6.19]
Felix MENDELSSOHN (1809-1847)
On Wings of Song (Lied, op. 34 / Arr. L. Tertis) [2.35]
Romance n° 1 Sweet Remembrance 19 n° 1 "Doux souvenir" (Arr. L. Tertis) [2.23]
Romance Fleecy Cloud op. 53 n° 2 (Arr. L. Tertis) [2.31]
Romance op. 62 n° 5 "Gondola Song" (Arr. L. Tertis) [3.14]
Duetto (Arr. L. Tertis) [3.19]
Trio n° 2 in C minor op. 66 [28.35] *
Anton RUBINSTEIN (1829-1894)
Mélodie en f (Arr. L. Tertis) [2.40]
Piotr Ilyich TCHAIKOVSKY (1840-1893)
A Pleading (Arr. L. Tertis) [2.41]
Chanson sans paroles (Arr. F. Kreisler) [2.12]
Chanson triste (Arr. L. Tertis) [2.31]
Franz LISZT (1811-1886)
Liebestraum (Arr. L. Tertis) [3.55]
Johannes BRAHMS (1833-1897)
Minnelied (Arr. L. Tertis) [2.17]
Sonata n° 1 in F minor op. 120 n° 1 [30.36]
Arnold BAX (1883-1953)
Sonata for viola and piano [19.53]
Frederick DELIUS (1862-1934)
Sonata for violin and piano n° 2 (Arr. L. Tertis) [11.32]
Serenade from Hassan [2.47]
Giuseppe SAMMARTINI (1695-1750)
Sonata in E (Allegretto) [0.38]
Lionel TERTIS (1876-1975)
Hier au soir [3.05]
Three Sketches : N° 1 Sérénade - N° 2 The blackbirds - N° 3 The River [7.40]
TRADITIONAL (arr. L. Tertis)
Old Irish Air ? two versions [3.39 + 2.32]
Londonderry Air [3.15]
Complainte [2.21]
Old German Love Song [2.42]
Lionel Tertis (viola)
William Murdoch (piano), Arnold Bax (piano), George Reeves (piano), Ethel Hobday (piano), Harriet Cohen (piano) and anonymous pianist
Albert Sammons (violin) *
London Philharmonic Orchestra/Hamilton Harty (Sinfonia Concertante)





*무단복제 기재시 법적인 책임이 동반됩니다.
2005년 1월16일 발효된 저작권법에 의거 무단으로 본 글과 사진을 옮길시 저작권법에
위배 제재 받습니다. 불펌 적발시 고소합니다.